Festive Fourth of July Crafts for Kids
June 29, 2020
Make this 4th of July one to remember by involving little learners in all of the fun-filled festivities. Even better, why not get ready for the big day by creating 4th of July crafts for kids?
Check out the easy and exciting craft ideas below and prepare your child for the big day, all while teaching your child more about Independence Day, and increasing patriotism along the way!
4th of July Hand Print Cards
Make personalized cards for family and friends, or simply decorate the house with these delightful hand print cards! While crafting, your child will paint his or her hand and create a hand print on the center of the card. Feel free to create a design on the hand that will transfer to paper!
Supplies Needed:
Red, white, and blue finger paints
Light blue or white construction paper or cardstock
Paper plate
3 Paintbrushes
Markers for writing
How to Make:
Step 1. Prepare paint palette by placing large dabs of red, white, and blue finger paint around the paper plate.
Step 2. Using a paintbrush, help your child begin painting his or her hand. Choose one hand to paint, and decide upon the design ahead of time. For instance, your child might want to create a handprint that looks like an American flag. To do this, help your child draw a blue box on the palm, near the base of the thumb. Paint a white star in the box, and paint each finger alternating red and white! Be sure to use plenty of paint!
Step 3. Press your child's hand to the construction paper or card stock. Try to make this print in the middle of the card.
Step 4. Decorate the rest of the card however your child sees fit! Use the markers to dress the card to family members, mount the paper on a larger piece of paper to act as a border, or you can cut out the hand print after it is dried and use it to decorate anything your child desires!
---
---
4th of July Hand Print Wreath

Kids love personalizing their crafts with hand or foot prints, and these crafts make lasting memories for years to come as your child compares their hand prints from one year to the next! For this craft, your child will trace and cut hand prints and attach around a paper plate to make a beautiful and easy 4th of July worksheets!
Supplies Needed:
Large sheets of foam board, in red, white, and blue
A pen
Scissors
1 round paper plate
Glue
Tape or ribbon
How to Make:
Step 1. Take the paper plate and carefully cut out the center of the plate so you are left with the outer ring. Be sure to use a basic, cheap paper plate that isn't coated or labeled "heavy duty".
Step 2. Place the paper plate ring aside, and begin helping your child trace his or her hands on the foam board sheets, creating a variety of hand prints of all colors.
Step 3. Help your child cut out the hand prints using scissors, and glue each print to the paper plate, gluing the palm to the plate, with the fingers pointing out.
Step 4. Work around the plate, gluing hand prints in alternating colors, until the plate is covered all the way around in hand prints.
Step 5. Use tape or ribbon to hang the wreath wherever your child chooses!
Uncle Sam Paper Plate Craft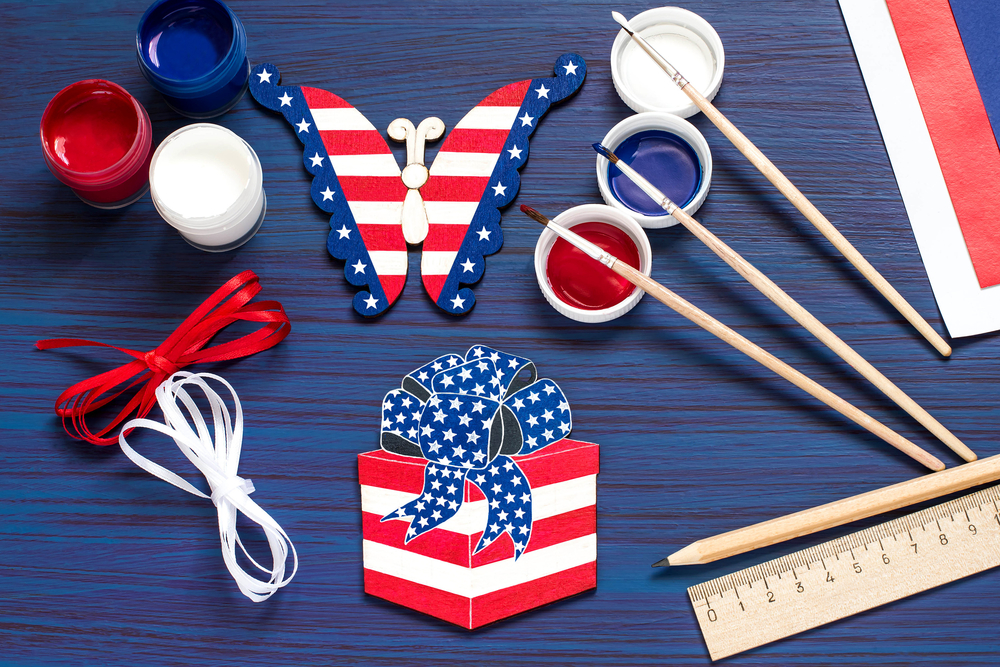 Easy 4th of July crafts for preschoolers should also teach little learners more about national symbolism and patriotism. Use this cute craft to teach your child about the symbolism behind Uncle Sam! While working, kids construct an Uncle Sam mask that is perfect for showing off at the local fireworks display!
Supplies Needed:
A round paper plate
Cotton balls
Construction paper or large sheets of foam board in red, white, and blue
Scissors
Glue
How to Make:
Step 1. Just like the wreath above, cut out the inside of the paper plate so only a ring remains.
Step 2. Make a top hat out of the foam board or construction paper. This could be created out of one sheet, or use two to mix colors!
Step 3. Help your child to draw and cut a star from the white paper or foam board. Glue this star to Uncle Sam's hat. Feel free to make more stars and decorate as you please!
Step 4. Glue the top hat to the top of the paper plate ring.
Step 5. Cover the bottom and sides of the paper plate ring with liquid glue and place cotton balls on top to make a big white beard!
Step 6. Raise the completed mask to your child's face and get ready for some fun!
---
Get your child in the spirit for the 4th of July, and make this summer holiday even more memorable by creating crafts that can be saved for years to come! And don't forget: when your child is tired out from making these fun and festive crafts, offer some meaningful downtime with a quality learning app for preschool from Kids Academy!
Mobile version