The Weekly Contest Comes to Its End
July 27, 2021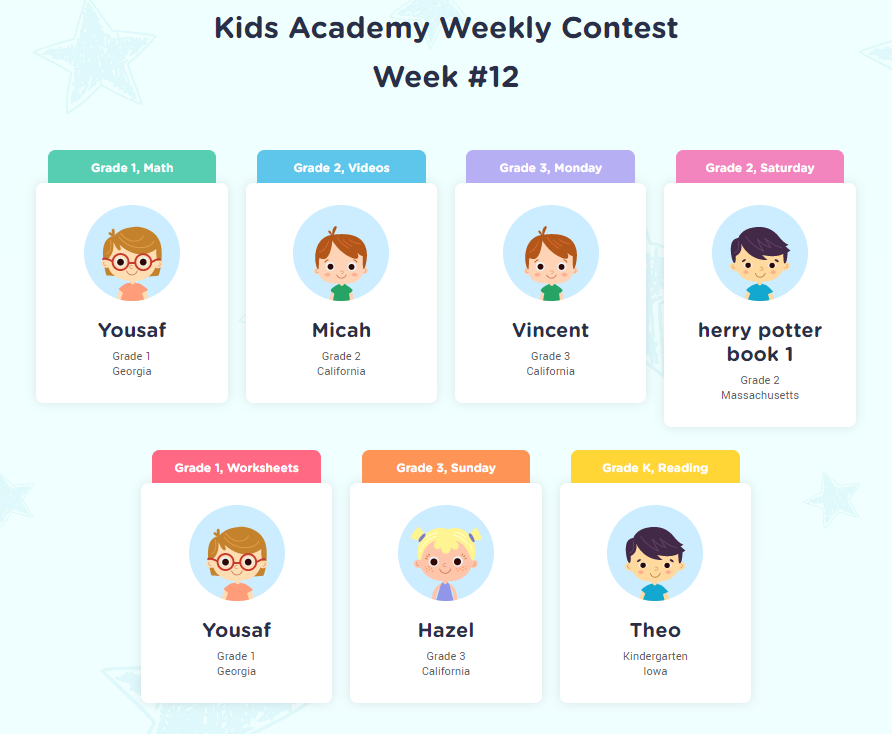 We are here to announce the end of the Kids Academy Weekly Contest. There have been three months of fun and study together with Kids Academy - 12 weeks in all - that surely entertained kids and maintained their skills during the hot summer months.
Congratulations to our Week 12 Contest winners:
Yousaf,
Micah,
Vincent,
herry potter book 1,
Hazel,
Theo,
Yousaf
We are proud and happy to announce the names of our earnest little learners.
As was promised, every week we chose the top 7 learners across 7 nominations, listed in the conditions of the contest. Now it is our pleasure to confirm that top learners have gained online certificates for their hard work. These certificates mark their achievements and can be found in the My Certificates tab in the winners' accounts. Check them out below.
Top 12 Weeks Learners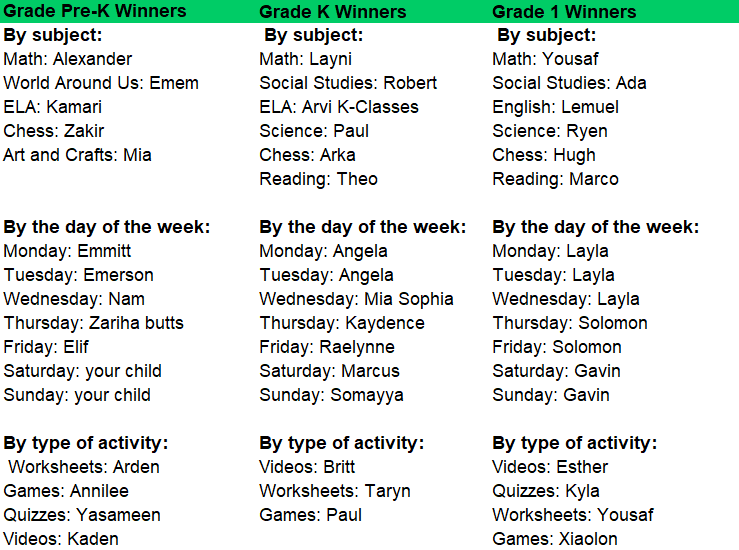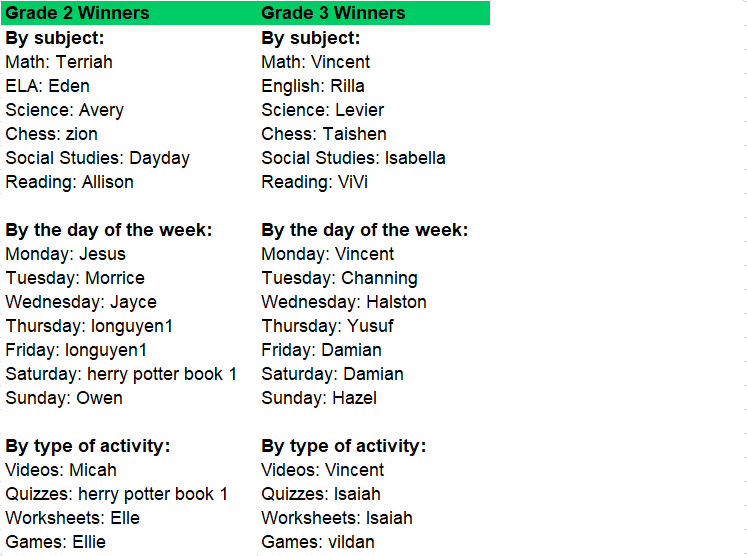 As well we have made up the chart of the students who strived to pass with flying colors in several nominations! Our applause to:
Top Diligent Learners Chart
Three-nominations winners!
Vincent (Grade 3 Videos, Math Grade 3, Grade 3 Monday)
Layla (Grade 1 Monday, Grade 1 Tuesday, Grade 1, Wednesday)
Two-nominations winners!
Gavin (Grade 1 Sunday, Grade 1 Saturday)
Damian (Grade 3 Friday, Grade 3 Saturday)
Your child (Pre K Saturday, Pre K Sunday)
Angela (Grade K Tuesday, Grade K Monday)
Solomon (Grade 1 Friday, Grade 1 Thursday)
Paul (Grade K Games, Grade K, Science)
herry potter book 1 (Grade 2 Quizzes, Grade 2 Saturday)
longuyen1 (Grade 2 Friday, Grade 2 Thursday)
Yousaf (Grade 1 Worksheets, Math Grade 1)
Isaiah (Grade 3 Quizzes, Grade 3 Worksheets)
We are very glad for holding this contest and we hope sincerely that your children were busy with the contest and it helped to strengthen their motivation for learning, brushed up their skills on such basic subjects as Math, Reading and Writing, as well as Science and Chess. We truly believe that the weekly reports helped you to see the child's progress more obvious. In that report, you could see how much time your child spent on the app learning, what skills they practiced, and how many stars they earned that they can exchange for fun rewards in the app. Thank you for supporting us and participating in this brand-new activity!
Though it is a bit sad to stop the contest, it's early to be upset about it. Our team struggles to create new original activities for your kids and pick up fresh ideas on useful articles for their parents!
Mobile version