Announcing the Winners of Week 2 Contest
May 17, 2021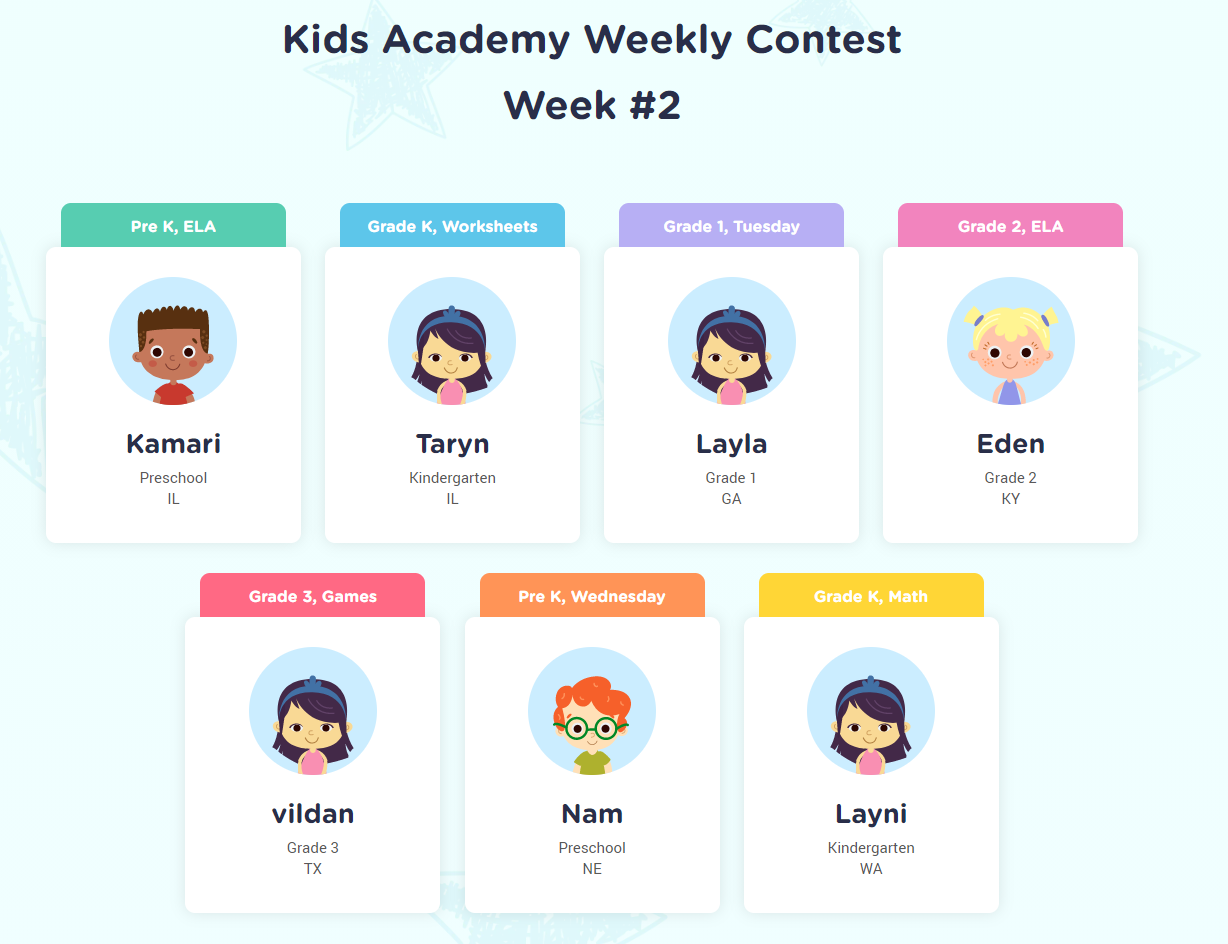 Our heartfelt congratulations to our Week 2 Contest winners:
Kamari,

Taryn,

Layla,

Eden,

Vildan,

Nam,

Layni.
It's truly a big achievement and explains all your hard work, dedication and brilliant skills! We look forward to seeing your names honored again on further nominations! This week we have another exciting contest for a chance to gain points and get awarded!
Week 3 Contest
A new сontest begins on May 17, 2021, and ends on May 23, 2021.
To become this week's winner, and earn a digital certificate, kids need to succeed in at least one of the following nominations:
Pre-K Mathematical Practice
Show us your child's success in math! Complete as many activities as possible in the Mathematical Practice course for Pre-K.
Pre-K Thursday
On terrific Thursday, all activities across Pre-K courses will count towards earning this nomination. Successfully complete as many activities on this day to win!
Grade K Games
It's your chance to shine on playing games! The child who successfully completes the most games across all Grade K courses will be the learner who earns the top title in this category.
Grade K Science
Show off your kindergartener's science skills! Practice the Grade K Science course to win the points for this nomination!
Grade 1 Wednesday
All activities successfully completed across any Grade 1 courses on Wednesday will put your child's name in the running on Wednesday!
Grade 2 Mathematical Practice
Second graders should pay close attention to their achievement in the Mathematical Practice course to gain points and win the nomination!
Grade 3 Quizzes
Learners should try their best in quizzes across any Grade 3 courses to be the first to gain a certificate for this award!
Don't forget that children can earn certificates for taking the top spot in multiple nominations! Learn more to win more with our weekly contest! Good luck!
Mobile version