Kids Academy Announces a New and Exciting Weekly Contest
April 26, 2021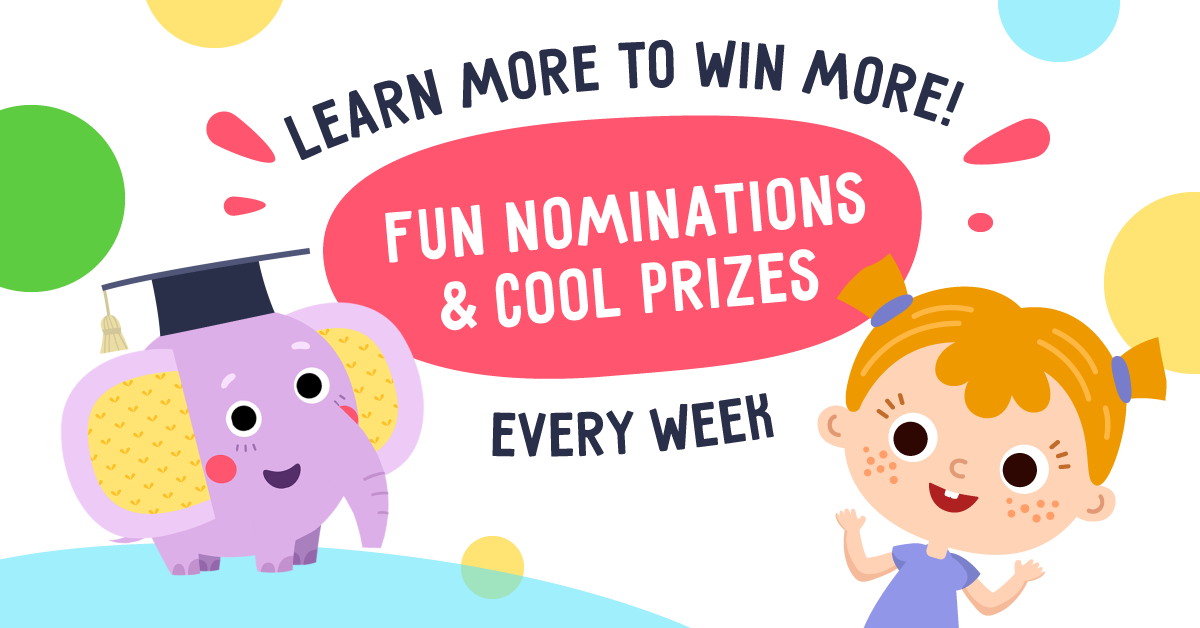 Kids Academy is excited to introduce a brand-new incentive to motivate your little learners as they progress through the Kids Academy app! As you may already know, each time your child finishes an activity, they earn "learning stars". These are points that they can exchange later for fun rewards, like fancy accessories for Eddie to make him look handsome and fun.
What's new is a contest that Kids Academy is hosting weekly. We will choose the top 7 learners across 7 nominations, listed below. Top learners gain online certificates to mark their achievement and can be found in the My Certificates tab in your account.
Each week, Kids Academy will send parents an email with information about their child's progress. In that report, you can see how much time your child spent on the app learning, what skills they practiced, and how many stars they earned. In addition, we will announce the top 7 Kids Academy learners who passed the activities across the learning courses with flying colors!
If your child doesn't earn a spot as a top learner the first time, don't worry! We reset the learning progress each week, and there's no limit on how many times a student may win every week; it all depends on your child's learning activity and weekly progress!
Week 1 Contest
The starting date of this week's contest is May 2, 2021.
To become this week's winner, and earn an online certificate, kids need to succeed in one of the following nominations:
Pre-K, World Around Us
Show us your child's knowledge about the world that surrounds us! Complete as many activities as possible in the World Around Us course.
Pre-K Tuesday
On terrific Tuesday, all activities across Pre-K courses will count towards earning this nomination. Successfully complete as many activities on this day to win!
Grade K Videos
The more videos kids watch, the more they learn! The child who watches the largest number of videos across all Grade K courses will be the learner who earns the top title in this category.
Grade K English Language Arts
Show off your kindergartener's early literacy skills! Master the grade K English Language Arts course to win the points for this nomination.
Grade 1 Monday
Around here, we call it "masterful Monday"! All activities successfully completed across Grade 1 courses on Monday will push your child closer to winning.
Grade 2 Foundational Reading
Learners should try their best in Foundational Reading for Grade 2 to be the first to gain a certificate for this award!
Grade 3 Worksheets
Third graders should pay close attention to their performance across all Grade 3 courses to win the top spot for this certificate!
Finally, children can earn certificates for taking the top spot in multiple nominations. The more nominations a child wins, the more certificates and points they gain. Learn more to win more with our new weekly contest!
Mobile version